+++LATEST NEWS+++
01/08/2013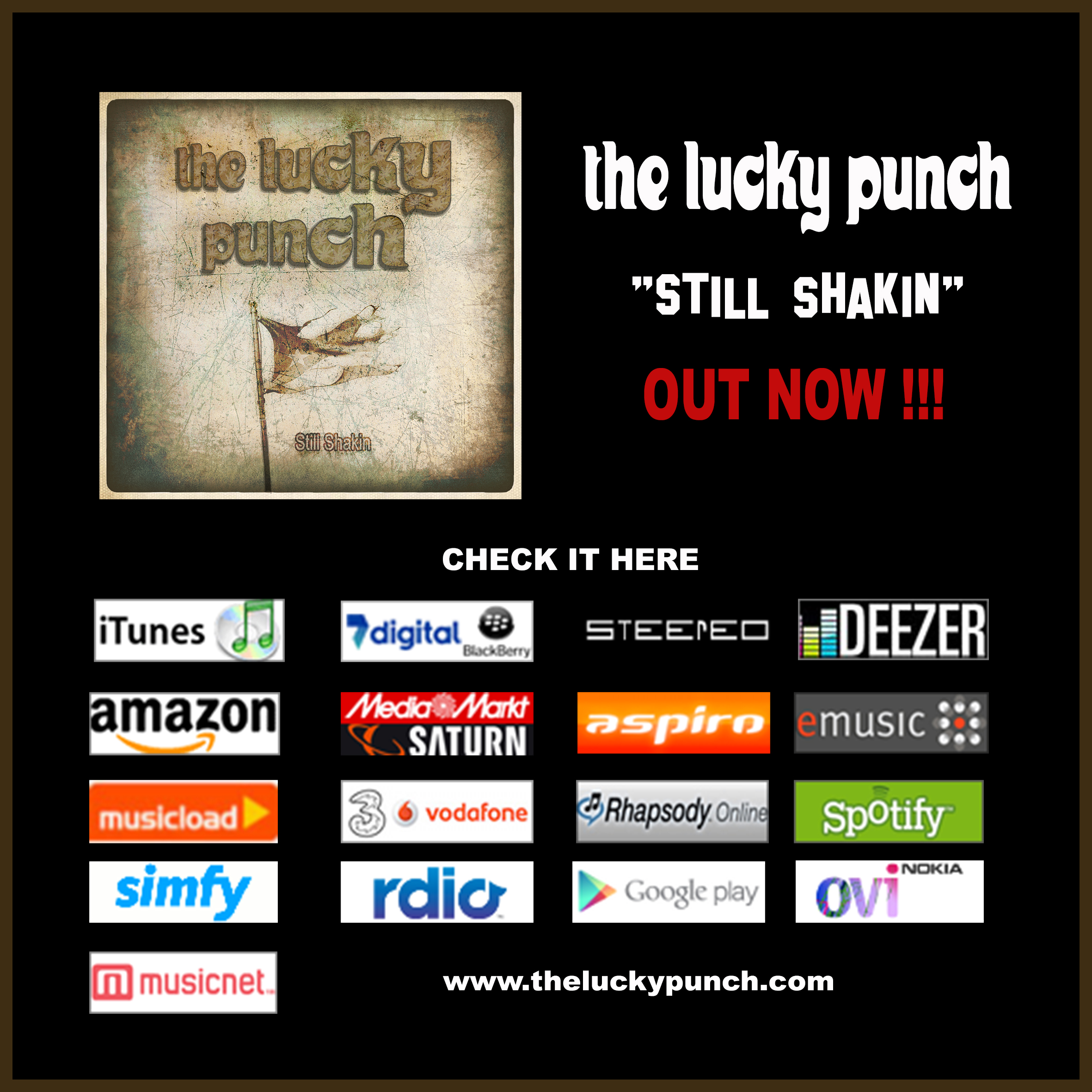 25/07/2013
Rock`n`Roll Is Dead ?
We don`t think so!
The Lucky Punch strikes back with album nr.4
Self-recorded, self-produced......back to the roots!
Here are the facts baby!
-13 New Songs which cover a wide range of pure classic hard driving Rock`n`Roll.
Some fast, some slow , some smooth , some heavy....simply The Lucky Punch style.
Redorded (live) at "Born To Boogie Studios" 2012, mixed by Andi Bayr at
Telstar Studio, Munich, January 2013.
-New drummer Fab Genius Jr. joins the band and puts down lead vox on 3 of the
new songs with his killer voice ( "Dazzler", "Colorful Dreams" & "Rolling Stoned").
Old drummer Raff Sister recorded all drum tracks before he left the band (& country)
and he did a hell of a job.
Percussions by Fab Genius Jr.
-Ben Scott aka Ben Dejo (Per Capita/Jetsaidready) puts down some lead vox
on "The Chaser" song.
(sharing lead vox with Marco Knarco)
-Extra spanish version of song "Colombia" recorded (so this one is available
in english & spanish )
19/09/2012-
Hey folks !!!
What's up ?
Several months have elapsed but we were not lazy.
The Lucky Punch are workin on the album no.4 and the recordings are
in the final stage.
The working title is "The Drug Sessions". Sadly, after the drum recordings
RAFF SISTER (drums) left the band and the country. He just need a time off.
The new man on the drum kit is the one and only
FAB GENIUS Jr.!!!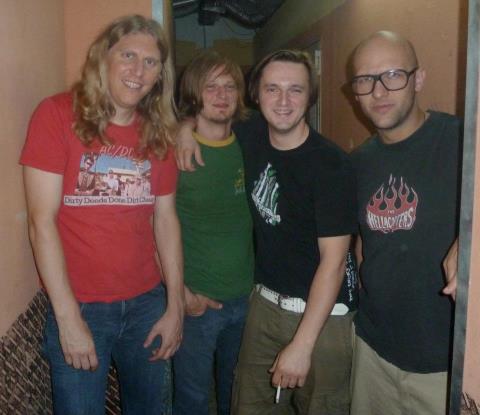 Watch The Lucky Punch live :
07.12.12, Bazina Club, Praha
27.12.12, 59 to 1, Munich


04/04/2011-

Chiao ragazzi !!!! The Lucky Punch will tour Italy for the first time in April ! check the
dates here !


01/03/2011-

Watch The Lucky Punch on a High-Exclusive show at MJ-Guitars store
(Matthias Jabs - SCORPIONS) in Munich !!! Date: 12/03/2011...



01/10/2010-


We`ll support Imperial State Electric & Bloodlights Friday November 5th at 59to1
Club in Munich.



26/09/2010-


The Lucky Punch wan`t to thank all the crazy fans & friends in spain for the support
and kind of mad partys !!!
HELL YEAH !!!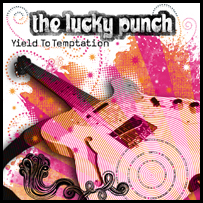 12/06/2009 -
Here we are again ! The new album
"Yield To Temptation" will be released 21st of August.
through FASTBALL/SONY music in Germany and Austria.
MUSIKVERTRIEB (CH), CODE 7 (UK, IRE), ROCK INC. (NL,B),
SUPERSOUNDS (FIN), RECORD HEAVEN (S), CD BABY(USA).
Online: KONTOR NEW MEDIA (Worldwide)
Check Out Some New Songs On Myspace.



12/05/2009 -
There will be a release party for our split 7inch (with jetsaidready)
friday 22nd of may at jennerwein bar, munich! Both bands will be
spinning records all night long! Starts 8 p.m. Don`t miss it!







24/03/09 -
We will release a split 7`inch in coop.with four time looser records in april.
It will feature our song "playin` my music" which is the bonus track from the china
edition of the "join our cruise" album. The other side of the disc will feature
"Jetsaisready", our partners in crime here in munich town. Their song
"bite the bullet" is a true killer! So better make sure you crab one of those
rare copy`s!
25/01/09 -
Check out the crazy spanish TOUR-PICS on our picture gallery !!!!!!!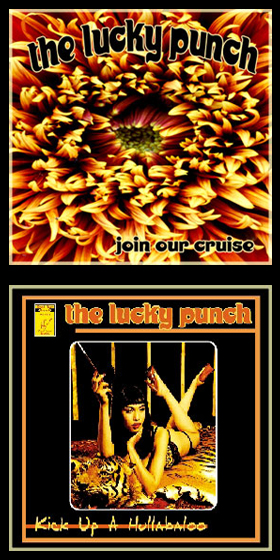 10/01/2009 -
THE LUCKY PUNCH
"JOIN OUR CRUISE" & "KICK UP A HULLABALOO" Album Is Now
Available On iTunes Stores- Worldwide. Accessorily You Can Get
It On Rhapsody, Napster, eMusic And GroupieTunes.

So Don`t Flog A Dead Horse And Get The Shit NOW !!!!!!!!!





02/09/2008 -
"GRAN TOUR DE ESPAÑA"
The Lucky Punch will tour Spain for the first time in Oktober`08.
Check out these dates !!!
09th Barcelona - Puertohurrako w/ Isln
10th Benidorm (Alicante) - Abraxas w/ The Harry Sons
11th Rojales (Alicante) - Recinto Festero
12th Cordoba - Freaktown w/ Malparaiso
14th Madrid - Sala Wurlitzer w/ White Cabaret
16th Valladolid - Sala Porta Caeli w/ The Mostaza Taco Brothers
17th Ordizia - Ordiziarock 08
18th Barakaldo (Bilbao) - The Edaska pub w/ The Sulfators


31/01/2008 -
The recording sessions according to the band`s utter satisfaction and everyone's
in high spirits. (Erwin Mojito says) we left no stone unturned to do a good job of it.
We've got 14 songs down and we set out to do the fine-tuning now. The band will
be in the studio for another 1-2 months. (Producer Alexander Preu says) Money`s
no object... !!! More news will follow...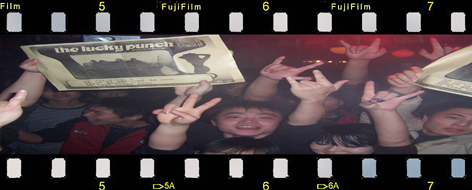 28/01/2008 -
WATCH IT NOW !!!! The Lucky Punch -
China Roadmovie DVD - Parts 1-17
on www.youtube.com




15/10/2007 -
The Lucky Punch entered the SOUNDPARK STUDIOS with producer Alexander
Preu to record, as yet untitled, album no. 3. More details coming soon...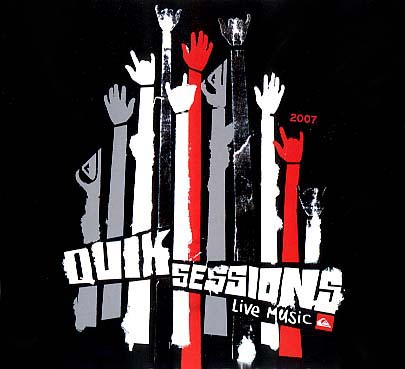 17/09/2007 -
check your local QUIKSILVER store to get the new QUIKSESSIONS -
CD sampler FOR FREE !!! It features The Lucky Punch song
"What You Do To Me" and a bunch of other cool bands.
details here



17/09/2007 - "flattery - a tribute to radio birdman volume #3"
IS OUT NOW !!!
the line up on this compilation is a real killer and features the
flaming sideburns, the doits and the sewergrooves among others.
we recorded our version of "love kills" for it. the CD will be
available exclusively through "Get HipDistribution".